Description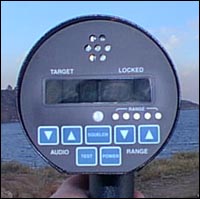 The Genesis Handheld K-band radar gun delivers outstanding range and precision accuracy while maintaining an extremely low-power output level. It's advanced Digital Signal Processing (DSP) means you can acquire and lock-in a target in the blink of an eye!
The GHS has one window for tracking target speed and another for locking target speed. The membrane switch control panel allows you to set audio volume, sensitivity (distance range), run diagnostic tests, and turn the unit on (or off).
The Genesis Handheld radar's high grade aluminum constructions and light weight (only 1.76 pounds/0.8 Kg) make it rugged and easy to use.
Reads Speeds From 10 – 199 MPH
These radar guns are NHTSA approved for law enforcement and have fantastic range! They can be used for sports, baseball, NASCAR and many other uses. Reads speeds toward or away from radar. Has coiled cord and cigar plug and runs on any 12 V power source. Variable audio, adjustable range, internal calibration test, segment test, w/ RF Standby and lock. Has low voltage and RFI warning indicators.
With certification, tuning fork, hard shell foam lined carry case, and 1 year warranty.