Description
With same direction and fastest vehicle operating modes, "Turbo-charged" with DSP technology (Digital Signal Processing) and compact enough to mount virtually anywhere, Kustom's Golden Eagle Series radar has charted new territory, in effect, establishing a new standard in traffic safety radar.
This radar uses DSP technology to display the fastest and strongest vehicles. The Golden Eagle 2  clocks the Semi that is closer and the corvette that is much further behind the semi traveling faster, simultaneously!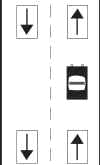 In moving mode, the Golden Eagle 2 can track vehicles in four directions:
In Front of the Patrol Moving the Same Direction
In Front of the Patrol Approaching in the Opposite Direction
Behind the Patrol Moving in the Same Direction
Behind the Patrol Receding in the Opposite Direction
Newest state-of-the-art small Ka band front and rear antennas! This radar is in like new condition. With dash bracket or visor mounting for front antenna, L bracket for rear antenna mounting. Complete dual Ka system with fastest vehicle processing and same direction moving mode, with front and rear antennas and brackets, all cables, remote, current certification, tuning forks, operator's manual, and 1 year warranty.