Description
The Stalker DUAL SL monitors every vehicle at greater distances, which results in superior tracking history and better target identification.
3 Window Fastest Speed Tracking
Stalker's patented Fastest Speed Tracking assists the operator in making proper target identification by displaying both the Strongest and Fastest targets simultaneously on separate display windows.
    Strongest    Fastest    Patrol

Four Direction Speed Monitoring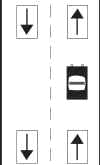 With two antennas, the Stalker DUAL SL's moving mode can track vehicles in four directions:
In Front of the Patrol Moving the Same Direction
In Front of the Patrol Approaching in the Opposite Direction
Behind the Patrol Moving in the Same Direction
Behind the Patrol Receding in the Opposite Direction
True Doppler Audio
The Stalker DUAL SL compensates for patrol speed variations when generating the Doppler audio. Since the audio tones do not vary with patrol speed, the operator learns to correlate this true Doppler audio with target speed, which eliminates the need to constantly watch the display to determine target speed.
Same Lane Tracking
Intelligent Fastest Speed Tracking
3 Window Multicolored LED Display
Read-Thru Lock
Compensated True Audio Doppler
Digital Antenna Communications
Narrow Beam Width
Small Detachable Display Unit
Software Upgradeable
Interfaces with Cameras & Computers
Moving/Stationary Dual K Antenna Radar with DSP technology for displaying FASTEST and strongest vehicle simultaneously. With same and opposite direction moving modes, remote, front antenna dash or visor bracket, rear antenna bracket, certification, operators manual, tuning forks, and 1 year warranty.