Description
K-band Moving/Stationary Dual Antenna Radar with same and opposite direction moving mode. Also has VASCAR function. Graphical display on front panel shows patrol car and relative position of target vehicles, depending on operational mode.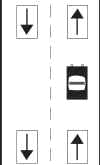 In moving mode, the HAWK can track vehicles in four directions:
In Front of the Patrol Moving the Same Direction
In Front of the Patrol Approaching in the Opposite Direction
Behind the Patrol Moving in the Same Direction
Behind the Patrol Receding in the Opposite Direction
Superior Range and target tracking, variable audio, internal calibration test, segment test, RF hold, variable range. With dash bracket or visor mounting for front antenna, remote control, certification, tuning forks, refurbished with 1 year warranty.