Description
Ka-Band Moving/Stationary Hand-held Radar with DSP technology. This radar uses DSP technology to display the FASTEST and strongest vehicles. The ATR clocks the Semi that is closer and the corvette that is much further behind the semi traveling faster, simultaneously!
The ATR has Calibration test, Segment test, adjustable audio, range control, RF hold and trigger lock. With certification, corded handle, hard shell foam lined carry case, tuning forks, operators manual and 1 year warranty.
The Stalker ATR (Advanced Technology Radar) is one of the highest performance one piece police radar available.
High Performance Design
3 Window Display
Read-Thru Lock
Backlit LCD for Nighttime Use
Twin Horn Ka Band Microwave
Advanced Digital Signal Processing
Cordleless operation option
Remote Control Option
Detachable Handle Design
Touch Panel Keyboard
Narrow Beam-Width
Rugged Polycarbonate Construction
1 Year Full Warranty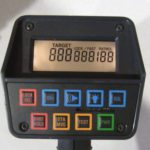 The backlit LCD display features readouts for Patrol speed, STRONGEST target, and FASTEST target. By displaying both strongest and locked targets simultaneously, the Stalker ATR can monitor vehicles while locked on violator.
While traveling in moving mode just raise radar up and it will instantly display patrol speed and oncoming vehicle speed.
Amazing Performance
To achieve the industry's highest performance, the Stalker ATR utilizes an innovative twin horn, Ka band antenna design. The microwave system features separate horns for transmit and receiving functions.
Moving/Stationary Ka band Radar with Fastest upgrade. Comes with hard shell foam lined carry case, corded handle, certification, operators manual, tuning forks, and 1 year warranty.